Soy Protein Isolate Production Line
1. Raw Materials: low-temperature soybean flakes
2. Products: soybean protein isolate (protein content is higher than 90 percent)
2.1 By-Products: soybean dregs (used for production of soybean dietary fiber)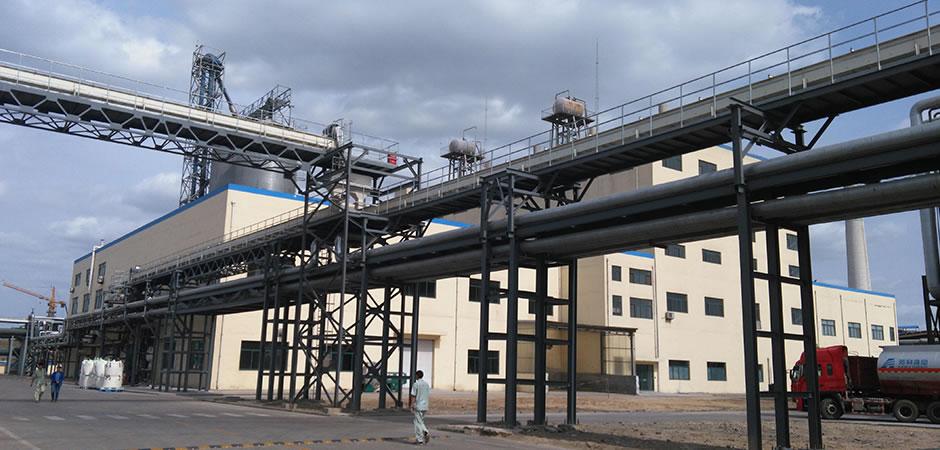 Soybean protein isolate production line (annual capacity: 20,000 tons SPI)
3. Applications
3.1 Severing as a kind of food additive, soybean protein isolate is able to efficiently improve the protein content of the food, thus improving food functional performance.
3.2 SPI is also suitable for production of health care products.
3.3 It can be used for production of environment friendly binding agents as well.
4. Process Description
We make use of alkali-solution and acid-isolation extraction process to separate fiber and protein from low-temperature soybean flakes. Then, separated protein solids go through high pressure homogenization, high temperature sterilization and spray drying to produce protein isolates.
Production Process
5. Major Devices
Rising conveyor, magnetic separator, scale, extractor, high pressure pump, separator, quantifying pump for PH value, neutralization tank, flash tank, sterilizer, homogenizer, spray drying tower, classifying screen, heat exchanger, air heater, vacuum system, protein collector, protein packing system, elctrical control equipment and other auxiliary devices
6. Production Capacity: 10t/d-30t/d SPI